Meet Our Veterinary Team
Meet the Steckelberg Veterinary Clinic Staff: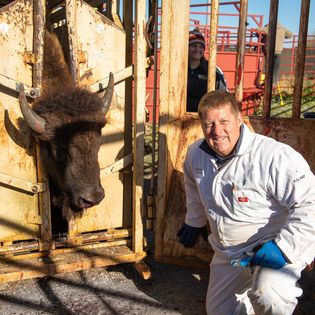 Dr. Kurt Steckelberg, DVM
Dr. Kurt Steckelberg grew up and graduated from Beaman, Conrad, Liscomb in 1986. He decided in high school that he wanted to follow in his father's, Arvin, footsteps and become a veterinarian. Dr. Steckelberg has many fond memories of going on calls with his dad, working cattle, backing up trailers, and listening to client's stories. In trying to decide what to do after high, he looked closely at what he liked to guide him in a direction. He loved to spend time outdoors, liked his science classes in school, helping people, and wanted to do something that would enhance the agricultural life of Iowa. So, looking at professions that would include these, after high school, he set off to attend school at Iowa State University. Seven years later, he graduated from Iowa State University with a Doctorate in Veterinary Medicine.

Upon graduating from Iowa State University, he moved back to his hometown of Conrad to join his father, Dr. Arvin Steckelberg, in practice. He quickly adapted to the fast-paced mixed animal practice life. He learned a lot of things from his father, including to work hard and listen to your clients because they can teach you a lot of things. He became a partner with his father in 1994, and then owner of Steckelberg Veterinary Clinic in 2006. He has grown the clinic into a full-service clinic, providing a wide range of services for small and large animals.

Dr. Steckelberg has remained in Conard, where he and his wife have raised their three children. Their three children have all attended and graduated from Iowa State. So, when Dr. Kurt isn't working, he cheering on the Cyclones, spending time with family and friends, or if it's summertime, on a lake in his boat.

Dr. Erin Damman, DVM
Dr. Erin Damman grew up on a family farm south of Melbourne where her family raises cattle, hogs, corn, beans and hay. She attended and graduated from West Marshall High School in 1995. She went on to Iowa State University where she received her BS in Animal Science in 1999 and Doctorate in Veterinary Medicine in 2003. Dr. Erin first practiced in Stuart, Iowa for 3 years before joining the team at SVC in October of 2006. Dr. Erin enjoys small animal medicine and surgery. She has helped modernize the clinic to the excellent level it is today.

Dr. Erin and her husband, Cody, are raising their two young children, Reagan and Kale, here in the area. Dr. Erin enjoys working on their acreage, gardening, exercising, and being involved with her children's sports teams.

Dr. Joel Steckelberg, DVM
About Dr. Joel Steckelberg.